Hi this is Ax. This is another Kinpachi Final SP-related post. Posting because of
a.) for posterity's sake
;
b.) its relevance and significance
;
c.)

Y

A

Y

!
. (o ̄∇ ̄)o!! Maybe some\most of you have heard of the good news or have seen that gem of a picture with our beloved Kinpachi 7 troika together with their 'classmates'
(Kinda late because I had to deal with some srs bsnz.)
, but we're not stopping without a little analysis. And I have a little bonus for you as well
(at the end of this post)
.
To be honest, even if I was really hopeful, there's just a little fraction of doubt as to whether it was going to happen. Just as when I was about to abandon all hope (with
'Lasciate ogne speranza.....'
in my head) and focus all the positivity on Taiyo's URAKARA guesting, something came up to tell me, "It isn't like you at all. Surprise!"
The other day, while I was doing my daily rounds of looking up new info on our very own tea pilgrim, I came across this
url
, but I can not log-in with my Sina account because I forgot my password (add my slightly poor visual acuity), so I informed Irea and asked her if she has a Sina account by chance. Fortunately, she has, and she was able to log-in successfully.
According to the Chinese blogger who posted the picture, it was
Ishida Miku
(the girl in white at the bottom left) who
blogged
about the reunion of their class (Season 7). The picture was part of an original entry, which Miku later edited, then,
after deleting the said pic
, she posted two cropped versions- obviously without
Y
A
Y
.
But there really are fast fans who manage to save pictures just before they get deleted. As you know, the golden J.E. rule. If you're quite familiar with the history of Taiyo's past appearances on his friends' blogs (or school-related stuff), the pictures have shorter lifespan compared to a mayfly's. Just like the one above. We're thankful that someone did save and share it for all of us to see. Of course, credits go to
Ishida Miku
, and the Chinese blogger
@t.sina.com.cn/yabukota131
. Anyway, it might never happen again, but who knows? The Cosmos is capable of pulling out great surprises when you're close to giving up. (: Also, for those of you who, like us, believe in giving proper credit to those who discover treasures, but are not too fond of having watermarks on memorable pictures, we photoshopped it to offer you a
watermarkless picture to keep
.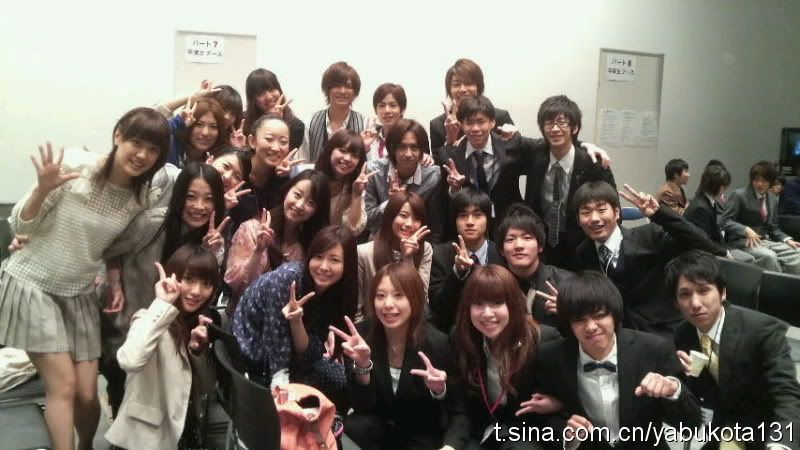 I love poignant reunions 'cause they're epic. What do you think would happen if Hikaru straightens up? Wouldn't he be next to Taiyo? And if Tomiura Satoshi steps back or front a bit, the three would remind us of the old times. They do seem to be a tightknit batch after all, because
some of them are still friends
(and if I remember it right, Taiyo was in a picture together with Shiraishi Chiyo and Taira Keisho 3 years ago).
Scripts were also distributed
among the cast members, so probably they might even have just a short dialogue.(゜∇ ゜) Yes,
"Arigatou~"
would definitely be what most of them would say.
So much for that, just keep the good vibes coming!(ノ゚∇゚)ノ
And like I said,
a small bonus
just in case you're interested. (JUPITER and Watashi wo Tadoru Monogatari are both all over the place, so maybe some of you have been looking for this one.)
Thank you.